Methodist Minister, Reverend Horace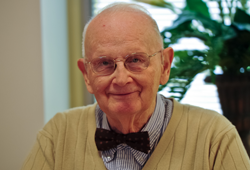 As a Methodist Minister, Reverend Horace saw first-hand the benefits of helping others. As a Mason, he applied these lessons by supporting the Masonic Home - both as a volunteer and as a donor.

When his wife Roberta passed away, Reverend Horace knew the Home would provide him with the very best care. Now he lives at the Home, and continues to contribute in both ways to help his fellow residents.

Please join Reverend Horace and give generously to help the Masonic Home provide essential care to those in need. Through the donor stories below, learn more about how others like Reverend Horace have made an impact through their acts of giving to help the residents of the Masonic Home of New Jersey.